Septic & Reed Bed
Waste Treatment Systems:
*Sustainable * Low Operating Costs
*Low Servicing Needs * Natural Waste Water Treatment
Why Kelly Plumbing for your Waste Treatment System?
Local Expertise servicing Bendigo, Mount Alexander, Macedon Ranges, Hepburn, Ballarat, Lodden, and Campaspe Shires.

Our focus on Environmental Sustainability means we are used to solving complexities with Council and Health Officers.
We ensure your system meets local bylaws, regulations, permits & completions to EPA Approval and "Permit To Use"
Types of Waste Water Systems:
1. Septic Tank
2. Reed Bed Waste Water Treatment to Irrigation Disposal



3. Grey Water Treatment





4. Aerated Waste Water Treatment to Irrigation



5. Custom Waste Designs
The age old septic primary Treatment process which uses bacteria in the septic tank to breakdown solids and waste prior to disposal to an approved effluent disposal depending on site conditions, is a lesser quality effluent. Please view video below to get understanding how this process works.
---
What is a Reed BedTreatment Plant?
Treatment plants use either an oxygenation process to promote a more active breakdown process or with our Reed Bed System using natural vegetation to remove nutrients and allow high quality water through to be then irrigated through our quality grey water irrigation dripper system. This delivers a much higher quality effluent and the distribution via drippers allows for higher distribution of water via trans-filtration or absorption.
Higher Effluent Quality means good water quality which is kind to our rivers, streams, groundwater supplies and our neighbours.
In all instances a land capability study is required.
Reed bed treatment systems have grown in popularity in recent years and have occured naturally in their own environment for a considerable time.
All Reed Beds must be carefully constructed to ensure effective and full treatment of the all household and commercial sewerage waste. There are four process in the treatment Chain, first of which is the Primary Treatment (Septic) effluent thens flows to Horizontal Reed Bed and then flows to Vertical Reed Bed for final clarifying before being Distributed Underground via the irrigation lines for absorption into the soil and transpiration into the atmosphere via plant or grass growth to the surface.
The principle of the treatment of sewage by Reed Beds is relatively simple. Oxygen is very important to promoting micro-organisms to break down waste or impurities that can cause diseases and illness if in contact with skin or has been ingested. The Common Reed (Phragmites Australis) has the ability to transfer oxygen from the air, down through its stem, porous speta and rhizomes, and out via the rhizosphere (root system.)
As a result of this action, a very high population of micro-organisms occurs in the rhizosphere, with zones of aerobic, anoxic, and anaerobic conditions. Therefore with the waste water moving very slowly and carefully through the mass of reed roots, this liquid can be successfully treated in a manner somewhat similar to the conventional biological filter bed systems of sewage treatment plants.
Reed Bed Sewage Treatment Systems can be used to treat a variety of pollution loadings, but great care must always be exercised in their design and implementation and installation to achieve maximum efficiency. This must be carried out by our trained service technicians.
The Reed Bed System will treat all wastewater for such a diverse range of purposes from domestic households, public toilet blocks, schools, hospitals, motels to even larger scale commercial properties.
Advantages of Red Bed Waste Treament Systems
Reed Beds require low energy and sometimes no power requirements in some cases. Normal systems require one irrigation pump only when system is being used, otherwise the reeds take care of the rest of the natural treatment.
Servicing interval for Reed Beds is once a year.

Reeds create a pleasant green oasis in your garden all year round.

The resulting treated water can be used on your garden through drippers and is safe to the environment.
Reed Bed Waste Systems are an Environmentally Sustainable System "just add waste-water"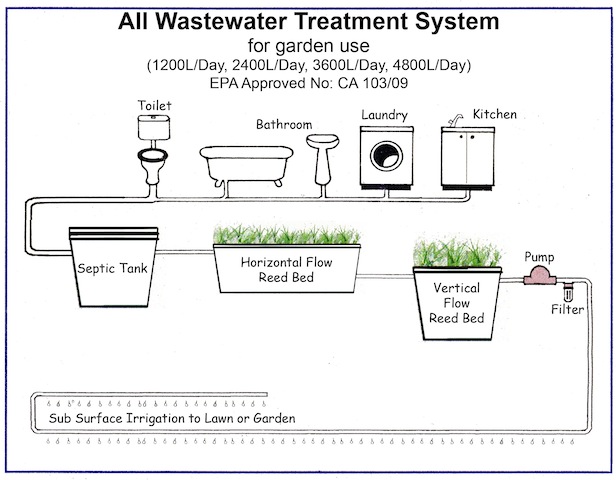 3. Grey water Only Systems
Grey water is a safe and reliable water supply using bath ,shower, laundry and basin waste water that can be treated back to a very high water quality. This is suitable for garden use and this can be further clarified to produce a safe clean water, in conjunction with our sterilization process the grey water then can be reused through your toilets or laundry washing facilities.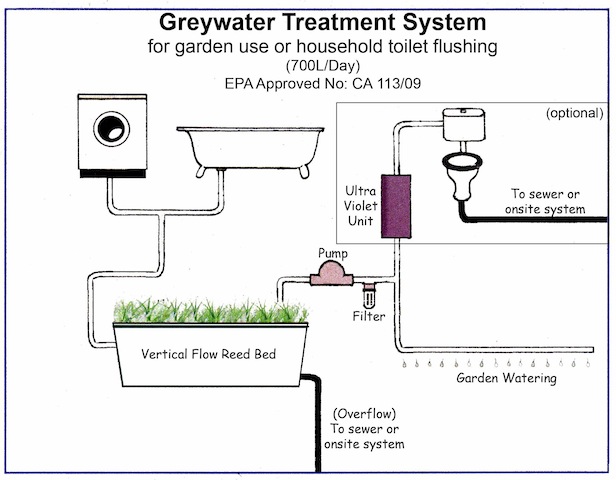 These units are also suitable to be used with a composting toilet if you have water limitation or require just simply as a stand alone unit. These are suitable for domestic or commercial applications and are simple safe with use of one pump for irrigation only. However these can be configured to so as disposal is via effluent disposal and as such no pump is required. This will be dictated to by the site and the Environmental health officer in the particular area.
Ask Us How that's what were here for.

The Reed Bed Waste Treatment Installation Process
1- Make contact with Kelly Plumbing either by Phone 54471596 or Email plumber@kellyplumbing.com.au
2- Discuss in general the details of your installation to gain information we can forward you an information pack.
3- Arrange a soil test or a land capability test if required by local EHO (Environmental Health Officer ) in your area, as well as inspection with the Health Officer and go over your treatment needs. Kelly Plumbing can guide you on the requirements here.
4- Kelly Plumbing will provide you with a proper quote based on all collected information as well as site visit.
5- On acceptance of the quote a design, Kelly Plumbing will prepare your application to the Council Health Officer along with the permit application cost for you to submit.
6- To fit in with your building project schedule, as it is nearing completion we will agree a date for the installation.
7- Once your project is completed and the power is connected, Kelly Plumbing will attend and commission the unit ready for operation.
8- Kelly Plumbing can also provide your Annual Maintenance Schedule for checking at intervals of once yearly, unless specified otherwise by the Environmental Health Officer (EHO).
4. Aerated Waste water Treatment

We use The German designed Graf Klaro full waste water treatment systems

These are compact in size with full Australian Standard approval.
Invisbile underground location and quite operation is the key features of this unit.
Talk to us about this option when space is important

---
For special requirements such as sensitive locations alongside rivers or streams, large commercial and industrial applications Kelly Plumbing can design you a customised system to suit.
Example
Motels
Hotels
Restaurants
Industrial Applications
We can design larger Sewerage treatment plants for 6000 litres a day to up to 150,000 litres a day if required , please call 03 5447 1596 for details
---
About Us:
At Kelly Plumbing we understand the confusion based around Septic and Waste-water Treatment Plant operation. As we not only understand the systems we supply, we also guarantee the installation and operation of the total package.
---
Phil Kelly -Master Plumber No 559 Ph 5447-0054
Contact Kelly Plumbing today for emergency plumbing services.
Phone: (03) 5447 1596